Project Coversheet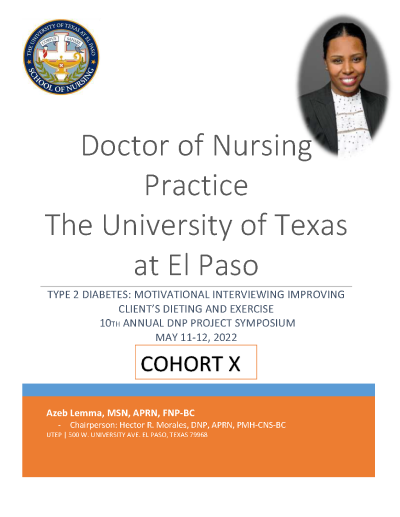 Date of Award
Spring 2022
Degree Name
Doctor of Nursing (ND)
Chair
Hector R. Morales, DNP, APRN, PMH-CNS-BC
Abstract
Background: Type 2 diabetes continues to be a prevalent chronic disease in the world, leading to increased rates of mortality and morbidity. In context of type 2 diabetes (T2D) management, patient empowerment is broadly investigated in the medical literature to date. This concept emphasizes patient autonomy and an individual approach to patient care. In turn, motivational interviewing (MI) is a patient-centered approach that aims to modify patients' behaviors. The effectiveness of MI in modifying patients' behaviors diagnosed with T2D has been documented in many sources. MI aims to reduce patients' internal resistance to change health and lifestyle habits and provide patients with awareness on how to become healthier and more self-disciplined in controlling own health condition.
Objective: The goal of this DNP project was to improve self-management capacities of type 2 diabetic patients who struggle with following their diet and exercise programs, thus experiencing high blood glucose levels. MI intervention was utilized to enhance patients' self-management behaviors and improve their adherence to the diabetic diet and exercise program.
Method: Motivational interviewing intervention was conducted among eight adults with type 2 diabetes. To gather the baseline data prior to and after the intervention, the following tools were used: Perceived Dietary Adherence Questionnaire (PDAQ) and Exercise Adherence Rating Scale (EARS).
Results: The use of MI demonstrated a significant effect on behavior changes related to the compliance with diabetic diet and physical activity. Findings from the PDAQ indicated an improvement between 3.9% and 22.75%; EARS findings indicated improvements between 6.67% and 37.5%.
Conclusions: This quality improvement project gained evidence that MI intervention, based on PDAQ and EARS scores, considerably improved diabetic diet, and exercise adherences.
Recommended Citation
Lema, Azeb, "Type 2 Diabetes: Motivational Interviewing Improving Clients' Dieting and Exercise" (2022). Cohort X. 13.
https://scholarworks.utep.edu/cohort_10/13